We don't blame you if you've avoided the prescription of retinol (the wonder anti-aging chemical that also gives you the smoothest, cleanest skin of your life) because it may be irritating. Retinol is a vitamin A derivative that helps to soften wrinkles, smooth skin texture, remove dark spots, and clear acne by stimulating collagen synthesis and cell turnover.
Dryness, redness, inflammation, and UV sensitivity are all side effects of all that skin-perfecting power. If you don't have time to wait, we offer a solution: retinol creams. You get all of the advantages, plus additional moisturizing and nourishing nutrients that help to reduce dryness and irritation. Learn about the tried-and-true Best Creams With Retinol that you should start using as soon as possible.
Retinol Correxion Sensitive Night Cream
This retinol cream was developed for sensitive skin. When retinol is mixed with hyaluronic acid in a little amount, it plumps up fine lines and wrinkles while producing minimal irritation and dryness. As you sleep, this RoC mixture minimizes the appearance of fine lines and wrinkles. The formula has been shown to help get rid of lines and wrinkles in the shortest amount of time. It's time to reduce wrinkles and get younger-looking skin.
While you're busy chasing dreams, this night cream hydrates, heals, and revives your skin all night long.
combats aging
specially formulated for night use
diminishes wrinkles and fine lines
Baebody Retinol Moisturizer Cream
If you're searching for a retinol cream with a high concentration, this is the one to go for. This product contains 2.5 percent active retinol, hyaluronic acid, Vitamin E, shea butter, Vitamin B5, jojoba oil, and green tea, all of which work together to combat uneven skin tone, fine lines, and wrinkles while also hydrating and plumping your skin. Discoloration, sun damage, acne, and other spots can all be reduced with this lotion.
Neutrogena Rapid Wrinkle Repair Moisturizer With Retinol
This cream is one of the finest retinol creams in India since it contains fast-acting retinol SA with glucose complex and hyaluronic acid, which work together to revitalize the appearance of your skin. This retinol lotion works to reduce the appearance of persistent wrinkles and fine lines that make you seem tired and old. It greatly hydrates and enhances the texture of your skin. It also brightens the skin tone, giving you a more youthful appearance.
L'Oreal Paris Revitalift Moisturizing Night Cream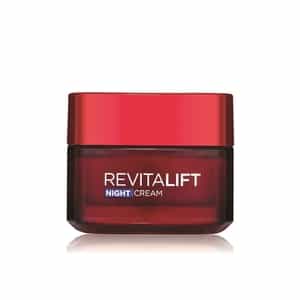 This retinol lotion has derma-lift technology and is suitable for all skin types. Pro-retinol A, dermo-elastyl+, and Centella Asiatica are ingredients in a composition that helps decrease fine lines and wrinkles. Your skin seems more soft, lifted, and youthful. This night cream should be used to a cleaned and toned face and neck. The moisturizing, fast-absorbing product feels light on the skin and won't clog pores.
Olay Night Cream: Regenerist Retinol 24 Moisturiser
This Olay night cream is enriched with niacinamide and retinol complex, which helps to keep the skin moisturized for up to 24 hours. It gives you visible results in firming, fine lines, wrinkles, brightness, smoothness, dark spots, and open pores over time. This retinol moisturizer absorbs rapidly and penetrates the skin's innermost layers, allowing you to wake up with radiant, plumper-looking skin.
Dr. Sheth's Rosehip & Retinoid Emulsion
The benefits of bakuchiol, hyaluronic acid, rosehip seed oil, and granactive retinoid make this power emulsion a strong solution. Granactive retinoid is delicate and mild, making it ideal for sensitive skin. The bakuchiol (nature's "retinoid") collaborates with the granactive retinoid to boost anti-aging effectiveness. Rosehip seed oil evens out your skin tone and helps to heal your skin from the inside out. Hyaluronic acid works to keep your skin plump and moisturized. What more could you want?
Frequently Asked Questions About Retinol
What does retinol do?
Retinol exfoliates the skin, accelerates collagen production, and accelerates skin cell turnover. Because of its anti-aging and skin-clearing properties, it is regarded the gold standard.
Reduces fine lines & wrinkles, improves texture
Fades hyper-pigmentation and blotchy skin
Fights adult acne
Tightens pores
Who should use this?
In general, I recommend that most individuals begin taking retinol in their mid- to late-twenties, between the ages of 25 and 30. This is when collagen and elastin synthesis begins to decline, making it the ideal moment to begin reaping the anti-aging benefits of retinol.
Is irritation normal?
Retinol users frequently report dry, itchy skin, particularly after using a new treatment. Redness, itching, and peeling skin are possible adverse effects. These adverse effects are very transitory, and as your skin adjusts to the treatment, they should fade away in a few weeks.
To reduce discomfort, seek for retinol formulations that include soothing or moisturizing compounds including antioxidants, ceramides, and hyaluronic acid.
What % of retinol should I look for?
According to studies, you need at least 0.25 percent retinol or 0.025 percent tretinoin to be effective, therefore look for a product that states the percentage." Dr. Rogers recommends starting with the lowest dosage of retinol before working your way up. Another factor to think about is your skin type.
Which skin type is best suited?
"It's ideal for older skin because it includes hyaluronic acid spheres, which attract moisture and fill aged skin, as well as swertia flower extract, which promotes firmness "says Annie Chiu, M.D., a dermatologist at The Derm Institute in Manhattan Beach, CA.
Who should avoid using retinol?
"People with sensitive skin problems like rosacea cannot handle extremely powerful topicals like retinols," says board-certified dermatologist Zenovia Gabriel, MD.
Retinol should also be avoided if you plan on spending a lot of time in direct sunshine without adequate sun protection.
Because retinol can make your skin more sensitive to the sun, it's critical to use sunscreen with an SPF of at least 30 every day, even if the weather is gloomy.
Some retinoids are also contraindicated in women who are pregnant or lactating.
Any precautions I should take?
Retinol should not be used with vitamin C, benzoyl peroxide, or AHA/BHA acids. If your skincare routine already includes retinol, AHA and BHA acids are exfoliating, which can dry your skin and create irritation.
When will I see results?
After 12 weeks, you may notice an improvement in problems like acne, but sun damage and indications of aging might take much longer to heal.
Also Check :